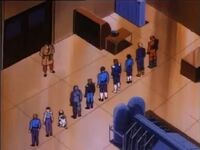 This is a two part story, the 1st & 2nd episodes of C.O.P.S.
This story tells about how the COPS team came together to stop the evil forces of the Big Boss.
"The facts have been kept secret, until now. You are about to witness the dramatic origin of the world's greatest crime-fighting team! It all began when an notorious underworld kingpin known as "The Big Boss" sent his henchmen on a spree of high-tech robberies."
"Empire City was in its greatest danger! C.O.P.S., the Central Organization of Police Specialists, was just being formed, and The Big Boss had recruited the scientific genius, Dr. Badvibes, to invent the Ultimate Crime Machine. And now, Dr. Badvibes was about to use his evil device!"
Ad blocker interference detected!
Wikia is a free-to-use site that makes money from advertising. We have a modified experience for viewers using ad blockers

Wikia is not accessible if you've made further modifications. Remove the custom ad blocker rule(s) and the page will load as expected.